Thu, 28 Jun 2012, 13:33 PM



It's That Time Of Year Again



By Bob Frey


Photo copyright 2012 Auto Imagery, Inc.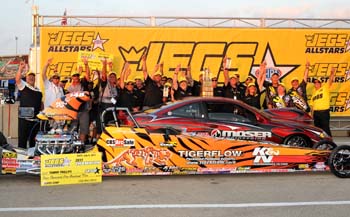 Division 4 won it all last year.
It's the middle of the year, the NHRA Full Throttle series is in full swing, the points races are starting to take shape, the temperature is getting hotter and so is the competition. All of that means that it is time for the annual mid-summer sportsman gala known as the Jegs All Star program. This once a year gathering of the best the Lucas Oil sportsman classes have to offer has been part of the NHRA landscape since 1985 and it always is highlight of the season for me as well as the individuals and teams that will compete in the race. To be held this year at the beautiful Rt. 66 track, the event will attract racers from all over the country including defending event, divisional and national champions. There will also be a lot of first time participants, and for them I hope the experience is a memorable one. Every racer that I have ever spoken to says that this is a great opportunity for them and they all reiterate how nice it is of the folks at Jegs to be supporting the race.
As much as I try to stay on top of the sportsman racing I never seem to have any luck at picking the individual or team champs. That could be caused by two things. One, maybe I'm not nearly as smart as I think I am (no comments, please). Or two, the racers are all so good that it's virtually impossible to handicap the race. After all, they got here because they have put together a good body of work over the past twelve months and there are no real favorites going into race day. Conversely, there are no real upset winners, since everyone in the show has a great pedigree and knows how to win rounds and races. There is one thing that gives some of the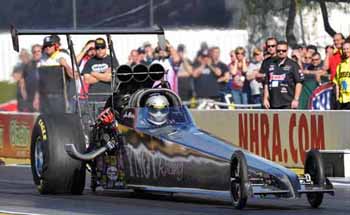 Jim Whiteley
racers an advantage, I believe, and that's experience. Like a team going to their first NCAA Final Four, just being in the show can be challenging to some. Others, who have done it several times, may be a little more at ease going into that all-important first round. Still, it's a great chance for everyone to shine on one of the biggest stages in the sportsman racing world and I wish all of them, veterans and newcomers alike, the best of luck.
Without going into each class individually, let me just say that the competition this year is as good as it has ever been. The alky classes always seem to get a lot of attention and this year will be no exception. With the best in both classes in Joliet it should be a fun couple of rounds. Of course, with the new point's format for the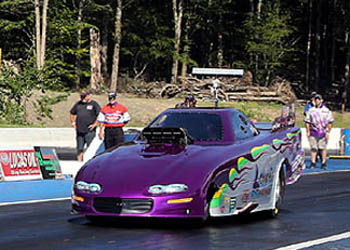 Eric Lourie
Photo copyright 2012 David Smith Photos
alky cars, the weekend takes on added significance. In Top Alcohol Dragster, for example, Jim Whiteley is coming off his third win at a regional race and that makes him perfect at that level. And with a couple of national event wins already to his credit, the defending All Stars champion is poised to have a big weekend, at least he hopes he is, but with five of the top ten in the points in the race, it won't be easy. It should be noted that Jim will be going for the unprecedented "three-peat" this weekend. He won the All Star race in 2010 and defended that title last year making him only the second driver, along with Tom Conway, to win the special race in back-to-back years. So besides winning the race, doubling-up on Sunday and adding a lot of points to his total, Jim has that extra bit of motivation, as if he needs it.
After getting off to a slow start in his All Star career, Frank Manzo has come on very strong lately. This will be his record-setting twentieth All Star appearance and he has eleven final rounds and nine wins over the years, both records in any class. That slow start that I mentioned included three wins in his first dozen All Star appearances, great by most standards, but not for Frank. Then, in 2005, he turned it on and won six of the next seven races with a runner-up in 2008 spoiling what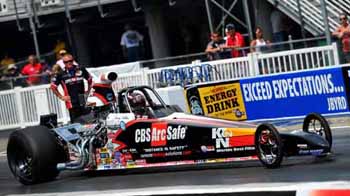 Tommy Phillips
would have been a perfect record. Well, he's back, and even though he could be the blocker, Frank is coming in to score some points for the Division 1 folks, and that means that Eric Lourie will get to make his first appearance in the big show as the D-1 blocker. He'll be joined by Karen Stalba who will also make her first appearance as a "star." Although this is her first race she should be able to get some excellent coaching from her husband, Tom, a former winner and four-time member of the Division 1 team.
One thing to watch this year, as always, will be the team competition. After last year's win Tommy Phillips, who has won his share of races and championships, said that the All Star program puts more pressure on you as a racer than anything else you do. He pointed to the fact that you're not only racing for yourself but your other team members, and since the winning team gets a whole pile of cash, you don't want to be the one to let them down. Plus, at divisional and national events you get to eliminate your bad events, delete them from your total and start again, and that's not a luxury you have at the All Star race. Over the long history of this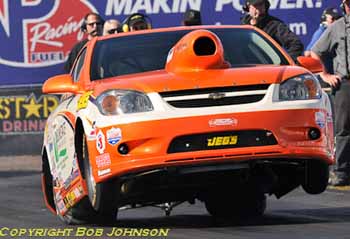 Justin Lamb
Photo copyright 2012 Bob Johnson Photography
event there have been two divisions who have yet to pick up a team title, and those are Division 5 and 7. I have looked over the roster for all the teams, and while there are certainly no easy draws, I really feel that one of those two divisions will break through this year and win it all. The addition of Top Dragster and Top Sportsman may help the D-5 guys since they have one of the hottest drivers in the sport running for them. JR Lobner, one of three family members who race in the Top Dragster class, is their rep and I like his chances to go rounds, pick up points for the Division 5 team and lead them to a respectable, if not a winning finish. And in D-7 you have the certifiably hot Justin Lamb and that could be just what the West Coast team needs to go the distance. Having Chris Demke, John Lombardo and former All Star champion Aaron Kinard on your team can't hurt, either.
Now before anyone takes it personally, let me just say that whoever wins the All Star race, individually or as a team, it can't possibly be a surprise, and my track record of selections over the years hasn't been exactly stellar. In fact, I've often had drivers ask me not to pick them because they have this theory that I may be a jinx, as if I had that kind of power. While I don't know about that I do know that this is one of the best racing weekends of the year, with lots of cars and great racers who may never be on the same track with one another if it weren't for the All Star show. So enjoy, have fun, make some new friends and I'll see you in the winner's circle.




NHRA: 10 Most Recent Entries [ top ]

May 22- FEATURE- From the Tower by Bob Frey
May 21- FEATURE- Did You Know? by Bob Frey
May 21- TOPEKA - Lucas Oil Drag Racing Series Wrap Up
May 20- ENGLISHTOWN - Toyota NHRA Summernationals Returns to Englishtown
May 20- TOPEKA - Special Awards
May 19- TOPEKA - Sunday Wrap Up
May 19- TOPEKA - Championship Points
May 19- TOPEKA - Bonus Points
May 19- TOPEKA - Summary of Eliminations in Top Fuel
May 19- TOPEKA - Summary of Eliminations in Funny Car



Copyright ©2013 AUTOSALES INC, dba Summit Racing Equipment
Ready to take your order at 1-800-230-3030 | Customer Service 1-800-517-1035