Tue, 24 Jul 2012, 10:47 AM



Reichert takes 3rd in a Row, Ferro Wins Ugly



By Todd Veney/Pro Sportsman Association


Photo copyright 2012 Steve Fuhrman Photos





HEBRON, Ohio --

Samsel vs. Reichert
Backed into a corner after losing early in his first two regional starts, Bill Reichert won his third straight to complete a perfect regional season and put himself in position to challenge runaway points leader Jim Whiteley for the Alcohol Dragster championship. Mickey Ferro had a much tougher time the negotiating the treacherous National Trail Raceway surface but managed to eke out the win in Top Alcohol Funny Car.
Reichert, upset in the first round at both Indianapolis and Norwalk, followed up his Maple Grove and Chicago wins by stopping Robin Samsel in the Columbus final, 5.40 to 5.84. "You try not to think about the pressure of having to win three races in a row for a perfect three-win regional season, but in the back of your mind, it's always there," said Reichert, who won every national championship from 2006 to 2010 and settled for second last year. "I just tried to concentrate on winning each round and dealing with the conditions."
An iffy track and oppressive heat kept drivers in all classes fighting for traction all weekend. "The track was hot, and the air was, too," Reichert said. "A lot of cars smoked the tires ahead of us in the first round, and it seemed like every time another one did, we'd take a little more timing out of it. We didn't want to, but we had to for the car to be able to get a hold of the track."
Running in the last pair of the round, Reichert pounded alternate Dave Heitzman in a rematch of the Chicago final with a 5.35 (low e.t.) that surprised even him. "I definitely didn't think the car would run that good, and we weren't even trying to, but that's the number that came up," he said. After a 5.41 against fellow title contender Randy Meyer in the semifinals, Reichert ran a consistent 5.40 in the final to deny the veteran Samsel.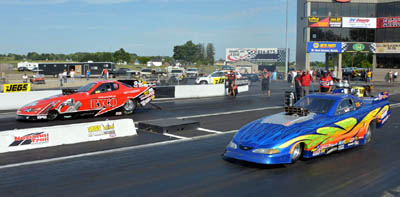 Bogolo vs. Ferro
Ferro struggled with the conditions all weekend but persevered to win his third race this season and second in a row in the North Central Region. "That was ugly," he admitted. "We lucked out. The track got hot and greasy and we couldn't get a handle on it. The car would leave hard every time, but it would get out there and start moving around on me and I'd have to short-shift it or just shut it off. "
Ferro qualified No. 2 behind Norwalk winner Chris Foster, who had everybody covered in qualifying with a 5.64, but in the first round, Foster went up in smoke and lost to many-time IHRA event winner Tony Bogolo, 6.12 to a shutoff 13.26. One pair later, Ferro defeated Brian Harvanek in the best race of the event, 5.74 to 5.79. "We had everything - clutch, transmission ratio, timing - backed way down," Ferro said, "and I made it." In round two against Paul Noakes, he didn't.
"The car started getting sideways, I saw the cones coming, and I stepped off of it," Ferro said. "We were just too aggressive downtrack. This was the kind of race where you probably could just run off the main jet and the barrel valve and count on the track to give you the wheel speed you need."
Ferro strapped a holeshot on Bogolo in the final, .099 to .257, and still won despite having his car shut itself off in the mid-range, coasting to a 6.35 at 187 mph. Bogolo chased him down but fell three-hundredths of a second short with a 6.23, 227.
"They say a win's a win, and I can think of times I've run 5.50s and got sent home, but this isn't the kind of thing I'm going to feel too good about," Ferro said. "When I look at this trophy, I'm not going to feel the same as I will when I look at other ones that I feel we really earned. I guess the important thing is that this weekend helped us keep pace with the other cars going for the championship, but we can't have another one like this and expect to win."




LODRS: 10 Most Recent Entries [ top ]

May 23- LODRS 2-3 - Competition Eliminator Qualifying, Session #1 Order
May 23- LODRS 2-3 - Super Stock Qualifying, Session #2 Order (Revised)
May 23- LODRS 2-3 - Top Dragster Qualifying, Session #1 Order
May 23- LODRS 2-3 - Competition Eliminator Qualifying Notes, Session #1
May 23- LODRS 2-3 - Super Stock Qualifying, Session #2 Order
May 23- LODRS 2-3 - Stock Eliminator Qualifying, Session #2 Order
May 23- LODRS 2-3 - Super Stock Qualifying, Session #1 Order
May 23- LODRS 2-3 - Stock Eliminator Qualifying, Session #1 Order
May 22- LODRS 2-3 & 2-4 - Event Preview
May 20- LODRS 3-2 - Event Wrap Up



Copyright ©2013 AUTOSALES INC, dba Summit Racing Equipment
Ready to take your order at 1-800-230-3030 | Customer Service 1-800-517-1035